Our Past

The West London Islamic Centre (WLIC) has served the Muslim community of West London for over 30 years.
The history of WLIC dates back to the early 1980s when local Muslim families would gather in their homes for children's Islamic classes, to hold meetings and for congregational prayer. The then-fledgling Muslim community of Ealing and Hanwell helped purchase the first Masjid in the locality in 1986. Based at 119 & 121 Oaklands Road, this facility comprised two shops converted to create a place of worshipable to accommodate both men and women.
The congregation very quickly outgrew the premises at Oaklands Road and an opportunity arose to purchase a large delivery warehouse on Brownlow Road in West Ealing to create a new Masjid. It was a well-situated building in the centre of West Ealing's shopping district, which offered the space that the growing community needed. The offer, in the face of strong competition from commercial purchasers, was accepted and on the 3rd of September 1996, the current West London Islamic Centre, on Brownlow Road was established.
The original buildings at Oaklands Road, were converted into four residential apartments and have been a valuable source of income for the Masjid for many years, whilst also having undergone considerable capital appreciation.
The Present

The ever-increasing congregation and the popularity of the wide range of services provided have meant that WLIC outgrew its existing facilities. It had become increasingly difficult to effectively deliver basic services.
The Masjid has an admirable reputation, having achieved prominence for its welcoming, considerate and organised culture, as evident amongst the exceptionally diverse congregation and staff. Attendees hail from all corners of the globe, including Algeria, Libya, Egypt, Somalia, Kenya, Saudi Arabia, UAE, Syria, Afghanistan, Pakistan, India and Bangladesh.
The Masjid accommodated with great difficulty a Jummah prayer congregation of around 1300 on Friday afternoons. Weather permitting, the car park accommodated a further 200.
In addition to the daily prayers, the Centre provided a wide range of services and activities: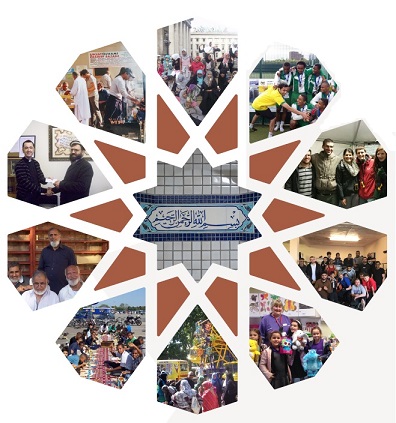 Children's Schooling
Youth Activities
Adult Islamic Study Circles
Islamic Information Stands
Islamic Counselling & Marriage Service
New Muslim Support Project
Community Clinic & Pastoral Services
Sports & Exercise Clubs for Men and Women
Mosque Open Days and Outreach Programs
On-site Al-Kitab Bookshop
Banqueting Hall Hire
A Natural Time for Renewal
The community has grown substantially in recent years, over 60,000 Muslims reside in Ealing and over 1 million call London home. The Board and congregation of WLIC were acutely aware that the building was limiting their goals and aspirations, despite their best efforts. The old building at circa 15,000 sq.ft was too small, dated and expensive to heat and maintain. Refurbishment or extension was not a viable option.
The Masjid was started anew once before, in 1996 when it moved to its current site in Brownlow Road. This pioneering spirit, combined with proven delivery of valuable community services over many years, shows that the Board and congregation of WLIC are more than ready for the next chapter in the development of our community.
We plan to establish a model that is focused on the delivery of vital services benefiting the Muslim community and beyond, with particular emphasis on youth, community welfare and education. A beacon centre that engages well with its neighbours and is respected by the wider community. A revenue generating model which allows the facility to be not just sustainable but profit generating, those profits being invested into the development and progression of the Muslim and wider community.
A Masjid and Community Centre that is modern, visionary and inclusive, serving all of London.