The centre is open to all for daily prayers, For everyone's saftey please read and adhere to our Covid secure guidelines. You can download the WLIC prayer timetables here.
Winter Jummah Friday prayers times are 12pm, 12.30pm, 1pm & 1.30pm, the gate opens at 11.30am. The centre can accommodate 150 people, entry will be on first come first served basis, space permitting sisters can attend the final 1.30pm Jummah prayer, children are requested to pray at home. Please adhere to 1m social distancing and que in a orderly fashion outside the main gate, please do not crowd outside the centre. There are no toilet or wudhu facilities, please bring a face mask, prayer mat and shoe bag, please use the hand sanitisers.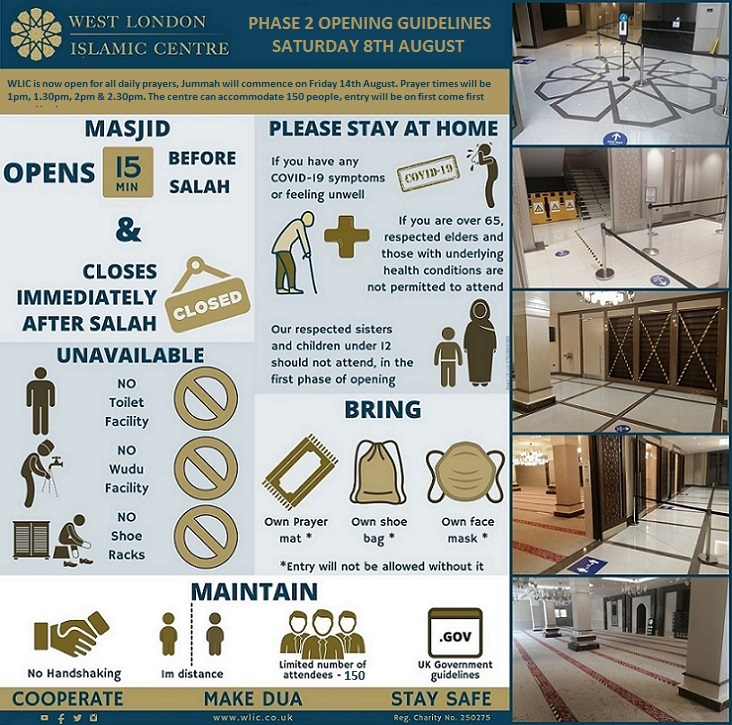 WLIC Closure Update [Dated: Tuesday 9th June 2020]
Further to the announcement that places of worship will be allowed to reopen from Monday 15th June, for 'individual prayers', the UKIM West London Islamic Centre (WLIC), one of London's largest new Mosque's, will continue to remain temporarily closed. The Muslim daily and Friday prayers are a congregational practice and the guidance has not provided due consideration to this fact or its implications. An updated statement from the Coordination Committee of London Mosques can be read here.
The transmission of Covid 19 remains a credible threat to the lives of vulnerable people in our communities. With a large number of BAME (Black, Asian & Minority Ethnic) members, who have been disproportionally affected during this pandemic, WLIC considers the safety and well-being of our congregation as of paramount concern. This decision will be kept under constant review, as will requisite risk assessments and the preparation of adequate safety measures, in accordance with guidelines issued by the Muslim Council of Britain (MCB).
We would like to thank our community for their support and patience. WLIC will continue offering online educational and welfare services, as we have done for the duration of the lockdown and we are hopeful that the centre will reopen in the not so distant future, Insha'Allah.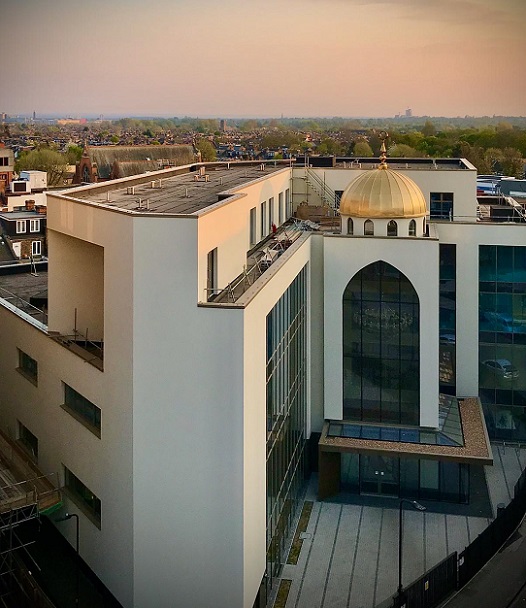 Temporary Closure & Services [Dated: Wednesday 18th March 2020]
Having only opened its new doors late last year, it is with a profound sense of sadness, that after a wide-ranging consultation, we announced the temporary closure of the UKIM West London Islamic Centre (WLIC) on Wednesday 18th March 2020, the London Borough of Ealing's largest Mosque. The Coronavirus Covid-19 outbreak is a UK public health emergency and as a community we must take all precautionary measures to prevent its spread and harm. Particular attention within the official guidance, on the avoidance of social contact and gatherings was directed at those who live and work in London, as the growth rate here is expected to be higher. WLIC serves thousands of worshippers on a weekly basis, their welfare and safety was of paramount importance when taking this most difficult of decisions. We hope all sections of our community appreciate the scale of the crisis we are now facing as a nation and the importance of playing our part in breaking the transmission of this virus. WLIC will continue to support our community, please see the list of contacts and services below.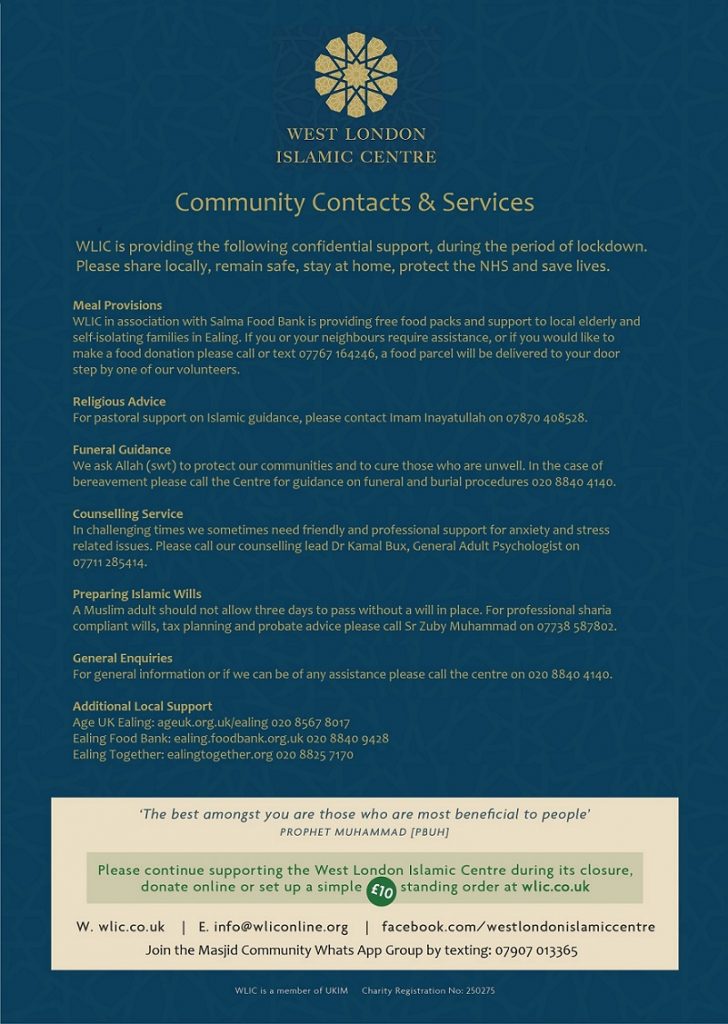 We know that many regular worshippers at the Masjid, whose hearts are attached to the House of Allah (swt) will feel especially pained at this development. We can assure all members of our community that this decision will remain under constant review and that the Masjid will open when it is safe to do so. As Muslims we believe this affliction is a trial from the Divine, whose mercy far outweighs His anger. We must remain strong, united and resolute in the coming months and demonstrate the intrinsic compassion within our faith to help the vulnerable and the needy. WLIC will do its best to facilitate support to those in our local community that need it. Please reach out to us via phone, email or Facebook. Please continue to adhere to the hygiene advice of not touching your face without washing your hands regularly for 20 seconds.
In this testing period, we ask our Muslim community to now establish centres of worship at home, raise the call to prayer, prostrate as families in congregation, impart knowledge of our great faith and increase the remembrance of Allah (swt), beseeching Him for his forgiveness, protection and grace. Along with Du'a (supplication) we are aware that Sadaqah (charity) alleviates calamities by the permission of Allah (swt), so let us give more. The Prophet Muhammed (pbuh) said 'Give Sadaqah without delay, for it stands in the way of calamity.' [Tirmidhi]
Please continue to support the Masjid during its temporary closure, click here to make a regular online donation or to set up a simple £10 standing order. For updates please also view www.wliconline.org or subscribe to our Whats App group by texting 07907 013365. You can also join us on Facebook @westlondonislamiccentre or Youtube for weekly reminders and presentations.
Dr Abdulkarim Khalil
Chief Executive Officer