Ramadan has departed, and only Allah (swt) knows if we will see another. We pray that you had a peaceful, productive and blessed Ramadan. We ask Allah (swt) to protect us, cure us and accept our Siyam, Qiyam, Qur'an and Sadaqah in this exalted period, to attain His good favour and pleasure, with success in this life and the one to come.
The overwhelming support and generosity from our community after nearly 2 years away, leaves us humbled. So we would like to extend our heartfelt thanks to everyone who visited, volunteered, supplicated, donated and to our wonderful neighbours. Please download the WLIC May 2022 Newsletter for a round up of events at the Centre. Jazakallah'Khair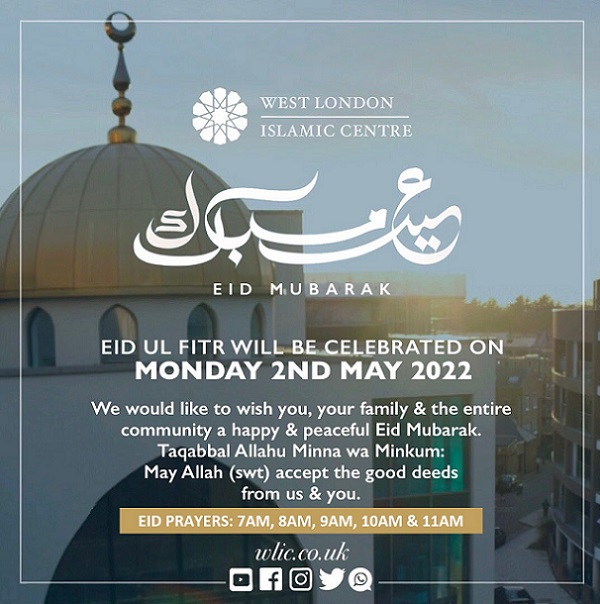 Eid prayer times Monday 2nd May 7am, 8am, 9am, 10am & 11am, Zakatul Fitr £5 per family member, if you live locally please walk to the Centre and if you have to bring a vehicle please park it sensibly. The sisters entrance is on the side, Brownlow Road.
"O you who believe, fasting has been prescribed for you as it has been prescribed for people before you so that you attain Taqwa (God consciousness)." [Al-Qur'an2:183]
'The fast and the Qur'an are two intercessors for the servant of Allah on the Day of Resurrection. The fast will say: 'O Lord, I prevented them from their food and desires during the day. Let me intercede for them.' [Ahmad]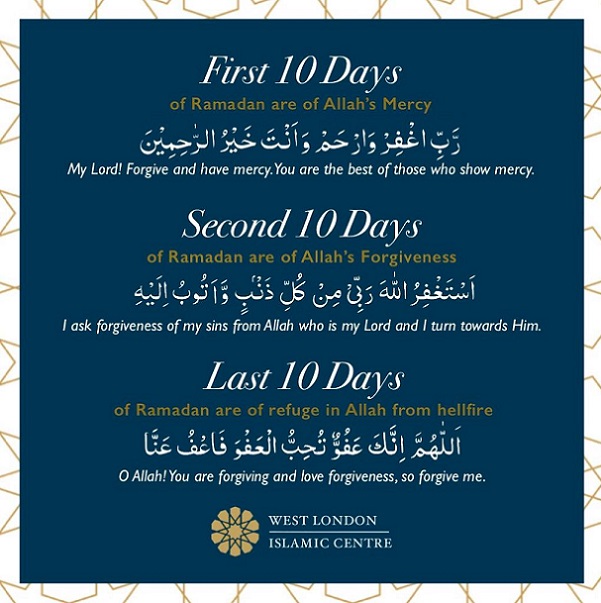 Please download the Centre Ramadan timetable, we look forward to welcoming you for evening Taraweeh prayers, if required please continue to wear a face mask and use the sanitiser stations.
Please cooperate with our stewards, who are here to ensure your safety. If you live locally please walk to the Masjid and if you need to bring a vehicle please park it sensibly, do not cause any harm or inconvenience to our neighbours. The sisters entrance for Eid, Jummah and Taraweeh salah is on the side, Brownlow Road.
Download the

Ramadan Timetable 2022

Visit the Centre's temporary Al-Kitab Bookshop for all your Ramadan essentials
Resplendent Ramadan Series: Join Ustad Junaid Dar Al Azhary every Saturday after Asr prayer 6pm to study lessons from the Qur'an, to unlock the inner dimensions and transformative power of this glorious month.
Please continue supporting the Centre redevelopment, £1.4million is needed to complete the upper floors, our Ramadan target is £500,000 Insha'Allah. Find out more

here

Jummah Friday prayer and Khutba start times are 1.30pm (Khutba begins 1pm) and 2.30pm (Khutba begins 2pm)
During the last 10 nights Qiyam prayers will take place between 1am-2am, the centre will then close until Fajr. Brothers and sisters are welcome.
Zakatul Fitr is £5 per family member and can be deposited with the centre office, as can Zakat and Sadaqah.
For activity and program updates please follow us on

social media

or join the WLIC Community Whats App group by texting 07907 013365
For a short treatise on making the most of this sacred period, please read this short treatise on

Befriending Ramadan

.